Got back last week from my annual deer hunt in SE Montana. I've always wanted to take one of my dogs but we take the deer hunting pretty seriously and we often have very cold temps and it just never really seemed like a dog friendly hunt. However, this year I decided to take my barely 1 year old PP Ranger. I just felt like he would learn a lot with all the wild bird exposure.
It ended up being a really good year to take him. The weather was mild, we had a harder time than usual finding quality deer, so some bird hunting was always a welcome break and the bird numbers were good.
While I don't have impressive pics of daily limits, I'm really happy with the way the trip went. I let a lot of birds go that were busted up by a puppy that wanted to get way to close for the point. Ranger had some moments of stellar dog work, and moments of puppy blunders. I did my best to shoot the pointed birds and let the rest go. It was disappointing when you finally find sharpies that held, but then weren't pointed and I couldn't shoot, but this trip was for my pup.
We hunted 4 days in a row, and the poor guys pads were showing it. I meant to have him in much better shape, but work was crazy up until the point I finally left. He just wasn't run enough before. I rested him a couple days while we chased deer and found a rooster rich field for a great afternoon pheasant hunt. As we worked towards the edge of a field I caught him on point in the brush. Then, he broke and I saw a porcupine for a split second. I yelled, but it was too late. He had a chin and chest full of quills. So much for the pheasant hunting that day. We got most of the quills out and he did pretty good once he figured out we were trying to help. It was helpful to have a couple friends helping. He did however lose a good portion of his beard. I didn't snap a pic of the quills since I wanted to fix the situation as quick as possible, but I regret it now. I hope he learned his lesson. The porcupine inhaled an ounce of number 6's.
The deer hunting was the worst we have had up there in a decade. We saw plenty of deer, just no big ones. I was preparing to take my tag home but found a previously wounded 3 point on the last day and decided I might as well put it down.
I took a pup full of desire and foolishness and brought home an exhausted dog with barb wire scars, porcupine quills and seasoned pads. Couldn't ask for more. Now to hit the chukar slopes!
First rooster of the trip
Another rooster after some mishaps on huns.
Next day with a rooster and a sharptail. Should have had a limit on sharpies this day but he is still figuring out this wild bird thing.
2 roosters in a field I've always wanted to run my dog through. We hit a 3rd, but it must have hit the ground running.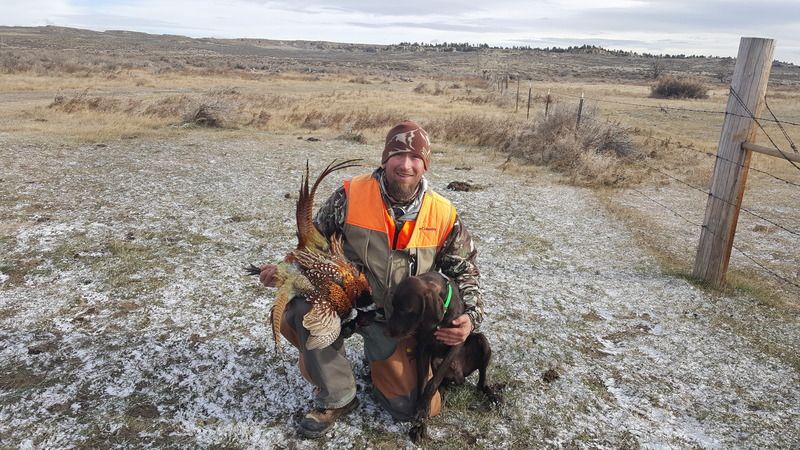 After getting some scraps from my rib-eye at the "Jersey Lilly". A favorite steak spot for us.
Looking back I sure would have killed a lot more birds with my older dog Hank, but I think the experience Ranger got from this trip is more valuable than a couple extra fajita dinners!