I have come to the conclusion that had this of been my first litter, it would have been my last. It was trouble from the start. 4 weeks into pregnancy mama was already getting us up 2 to 3 times a night. When it came time to whelp, it so happened that I needed to be at a CE class and the next day run my pup,Anka in her VJP. I was hoping Baja would hold out until sunday when I returned. NOPE, she went into labor early Friday morning of the 21rst of April. Complication arose and I had to leave her with my husband at the vet for a C-section. Stress level at it max at this point.
12 puppies were born healthy and lively. Even the runt who was 3 oz, was strong as an ox. I am fortunate to have some great friends as my husband has no idea how to deal with this. I called my best bud and she drove 2 hours to spend the night with the pups and my husband keeping watch.
Things were good, until day 3 when I found a pup barely responsive. I dont know what happened, but he was gasping for air. A quick call to the vet at midnight and I discribed the situation. I think by that time I knew and didnt want to face it. The respose from the vet was, if he is still the same in the morning, call me. He knew and didnt want to tell me that the gasping was agonal breathing. I held the little dude for 3 hours wishing I could end it for him quickly, but not knowing how. I just held him til the end.
The next hick up came at 3 weeks of age. I had started feeding a sloppy mush because of the number of pups. I noticed 1 pup would regurgitate shortly after eating. SOmetime it would be so bad that he would aspirate through his nose. I have been on a canine fertility and neonatal FB for sometime so I had a feeling that it was either mega esophagus or PRAA(Persistant Right Aortic Arch).
My husband and I decided how much we would spend and how much we would do to try to save this guy. His name was Critter. Critter was a tough little dude who was the first to do everything. He was on his way out of the whelping box if we didnt keep an eye on him
One morning I put him on the counter to feed him. Hoping that his problem was that he would just scarf his food and get sick. With in a few minutes he had aspirated so badly that I had to swing him to clear his air way. I decided right then that I had to euthanize him. When I went to the vet (just a country farm vet,mostly cows) I explained the situation and we agreed on the diagnosis and he was euthanized. I had to know. I had to know if I made the right decision, so I asked for a necropsy. I am a hunter, I have killed many animals and gutted them, butchered them etc. I figured this would be no different. Boy was I wrong. I guess the girly side of me took over as I watch my little Critter be dissected. I pretty much lost it as much as I would in front of someone. But, the vet showed me that we were right in the decision as he showed me the stricture in the esophagus.
And then there were 10. Nice round number. Pretty much from then on it was smooth sailing. But I watched like a hawk, more than I had any other litter. I was a nervous wreck for 7 weeks. Every sideways fart elicited a call to the vet or a friend .
As much pain and stress as we went through with this litter, I am thankful. I am thankful that I gained more knowledge on puppy rearing.
As of yesterday, they are all in their new homes and adapting well. I have received a ton of pictures and videos .
Just before they left, my friend came over and took some pictures. She is a pretty good photographer........dam good photographer. She is the same friend that came to the rescue during the whelping of the pups. My husband and I wanted to repay her, but she would take no money. SO, I called NAVHDA and got all the info on the dogs she has run and ordered plaques for ALL of them. I cant wait til she gets them, she is going to freak!
Anyway, here are some pictures and videos of the little demons. I hope you enjoy them. The videos are very short.
What you see here is a pile of pups. The dog in the very back is Anka, who had taken over the puppy duties. Just under Anka, and buried, is mama Baja.
]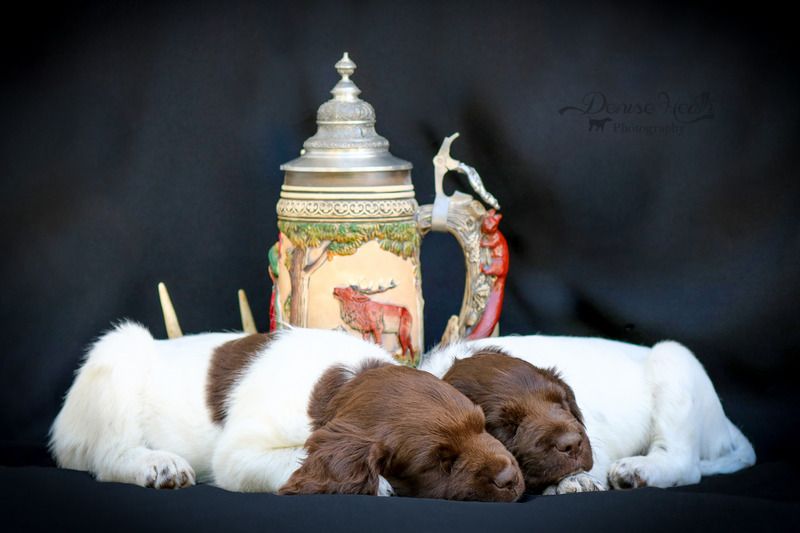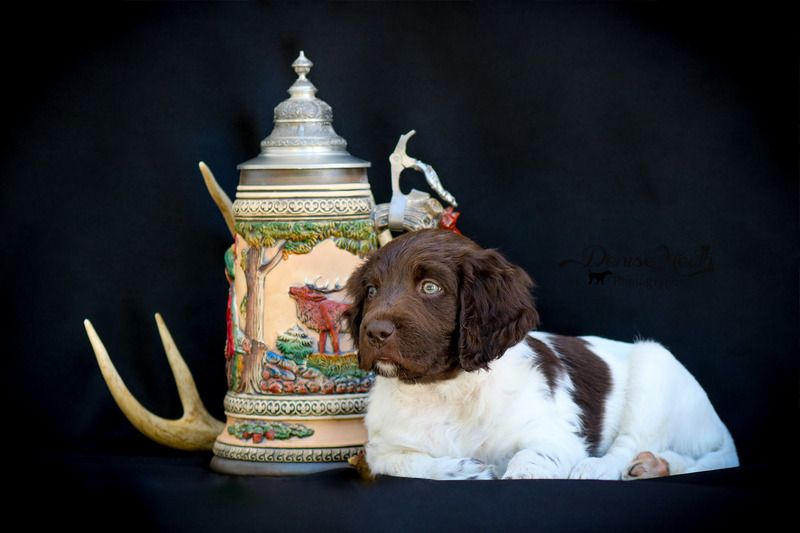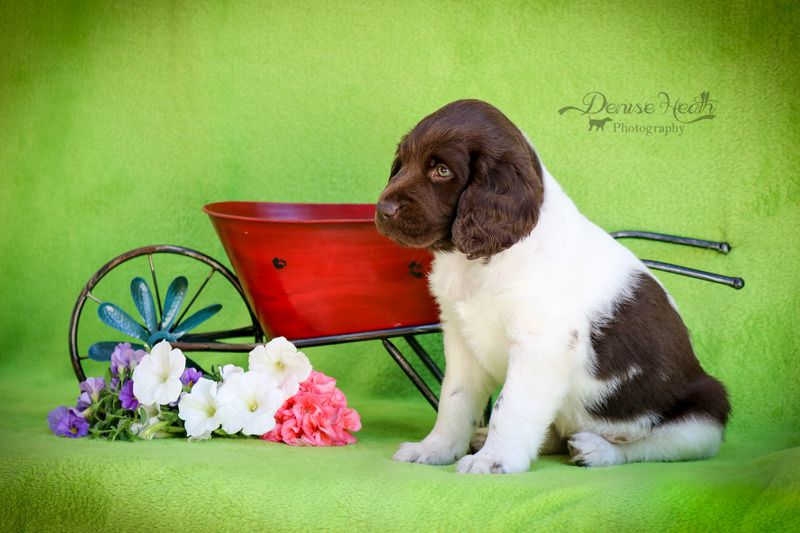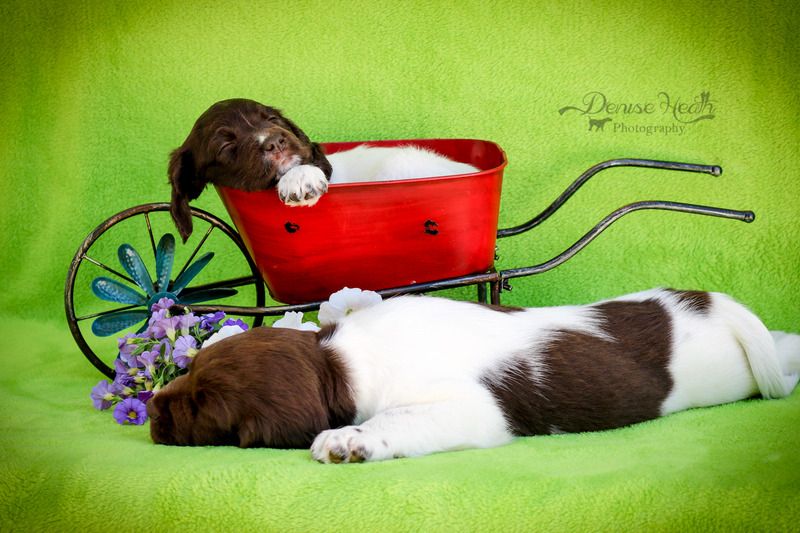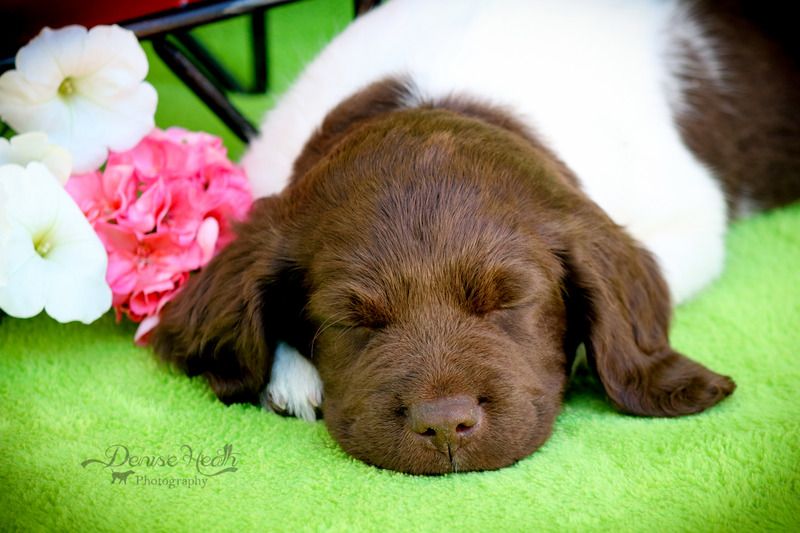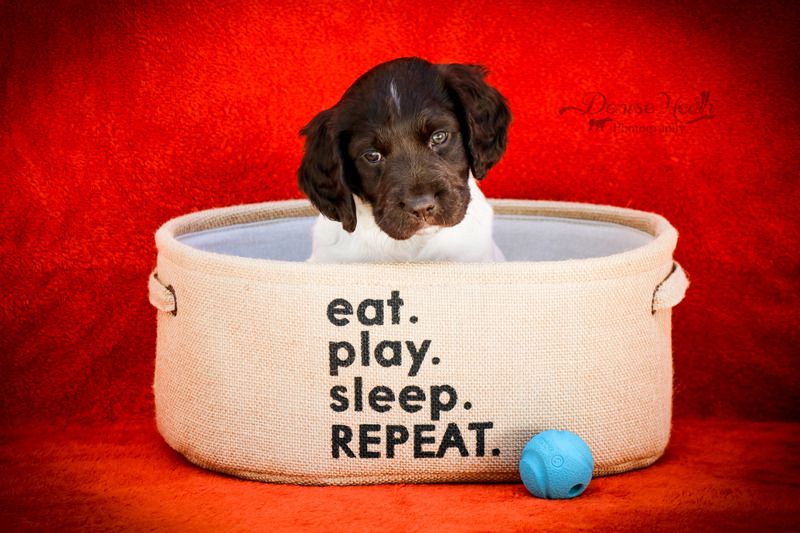 Baja and 14 month old Anka looking after pups
https://youtu.be/X0Lr9mZiWt8
This is probably the longest at 2minutes Pups discover hose
https://youtu.be/xjEU7MWBm2Q
New object to explore, helps that it smelled like dinner
https://youtu.be/URI18gw7Bf0
New sounds they may hear in new homes
https://youtu.be/bpEluJ9FuKg
Pups discover pool
https://youtu.be/oigi4l6TQ2E
Vacuum training
https://youtu.be/HCoblouZyEY
Dog door Chaos
https://youtu.be/sY6qcYP3KQM
My 14 month old playing with the pups. SHe has always been really good with them. Even when she has a chewy or food. Really love this dogs temperment
https://youtu.be/sY6qcYP3KQM