Yesterday while on another website, someone mentioned this forum and I couldn't wait to sign up! I've fly fished my entire life and upland bird and deer hunted for a good number of those years, as well. I owned a couple of top notch brittany spaniel (mother/daughter) through the eighties and nineties but haven't owned a dog since.
My last brittany,,, had to put her down when she was 17 1/2,,,,ranks as the second saddest day of my life:
[url="http://s207.photobucket.com/user/mastercaster07/media/IMG_1163_zpsan7ta8af.jpg.html"]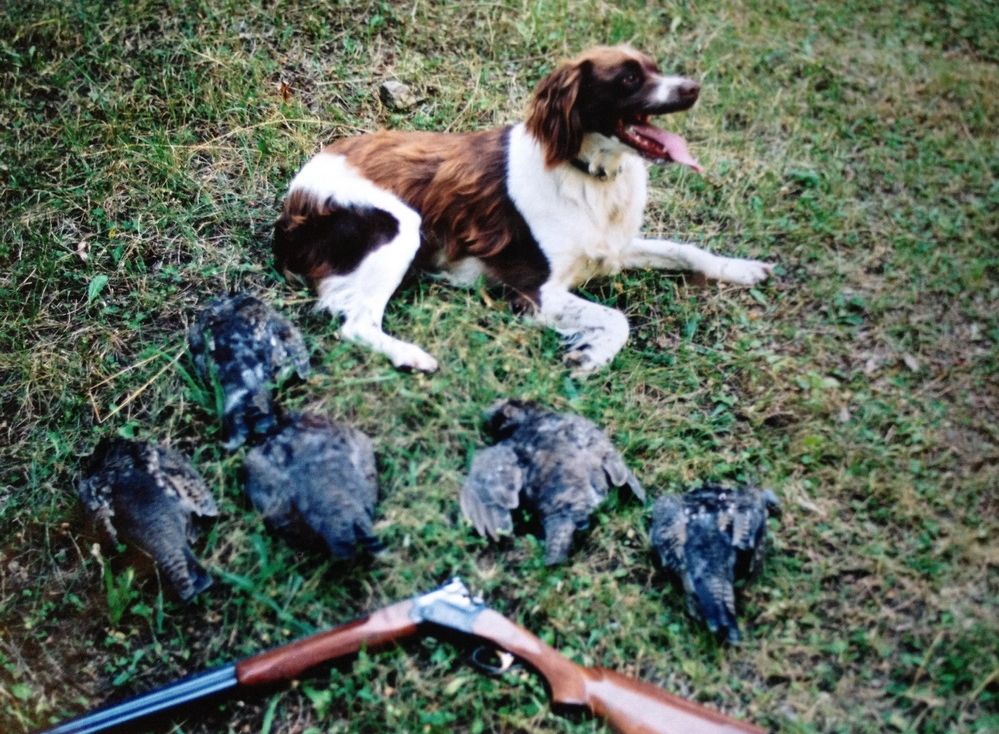 [/url]
I've always felt that if you own a pup/dog you better be prepared to put the time in to help that dog meet its full potential and that takes a tremendous amount of time to do it right. While I was working the last 25 years as a teacher, while heavily committed to other activities, spending time with family, and trying to pay off two properties, I knew I couldn't do the job of training a pup properly. Now I can because I'm retired,,,,, have been since October 31st. During the month of November I spent countless hours on the computer researching kennels and breeds of hunting dogs. It was the first thing to do on my "bucket list"!
I thought I had the breed I wanted all figured out,,,,, a brittany or possibly a chocolate lab, but then I started reading about the versatile breed of hunting dogs. I wanted a female dog no larger than fifty pounds; a dog that would point upland game, a dog that would retrieve water fowl, and one that would track game. She needed to fit nicely in the front of my 9' fly fishing pram and behave appropriately on the river bank while I spey fished. After extensive research, I decided on a wire-haired pointing griffon. Besides doing all of the above, I heard they also make excellent companions, which was also extremely important to me.
I was quite surprised to learn that there were only a handful of griff breeders in Canada and none in BC. Four of them are back east so after contacting them all I got my name on a mid February departure litter. I used up the last of my air miles to fly back to Montreal to pick her up. Named her Sako after my favourite firearms,,,,,had the name picked out ten years ago. LOL
She just turned four months old today. So far, I've mostly just been working on general obedience, socializing her, and exercising her twice a day in local parks. Unfortunately, because I live in the Vancouver area, I really don't have access to the open fields and forests until I start heading up to my cabin which will be real soon now that the snow has melted enough to get into it.
I feel I'm behind with her field training. Hopefully she'll be a quick study but I could sure use some advice here and there since I've been out of the game for quite some time. To be honest, I really didn't have to put much work into my brittanies,,,,, they were just good in the field at least in my eyes, probably from hunting them so much for so many years. I have worked on some fetching exercises around the house with Sako and a little with some pheasant wings but that's about it. I'd like to start working live birds into her program.
Before this becomes even more longer winded than I had intended, I leave this post with a question,,,,and a few photos. Where should a 4 month old puppy in its training in terms of obedience and field training,,,,, then I'll know exactly where I need to step it up??
Day one ,,,,picking her up in Montreal. Today she needs to listen to English!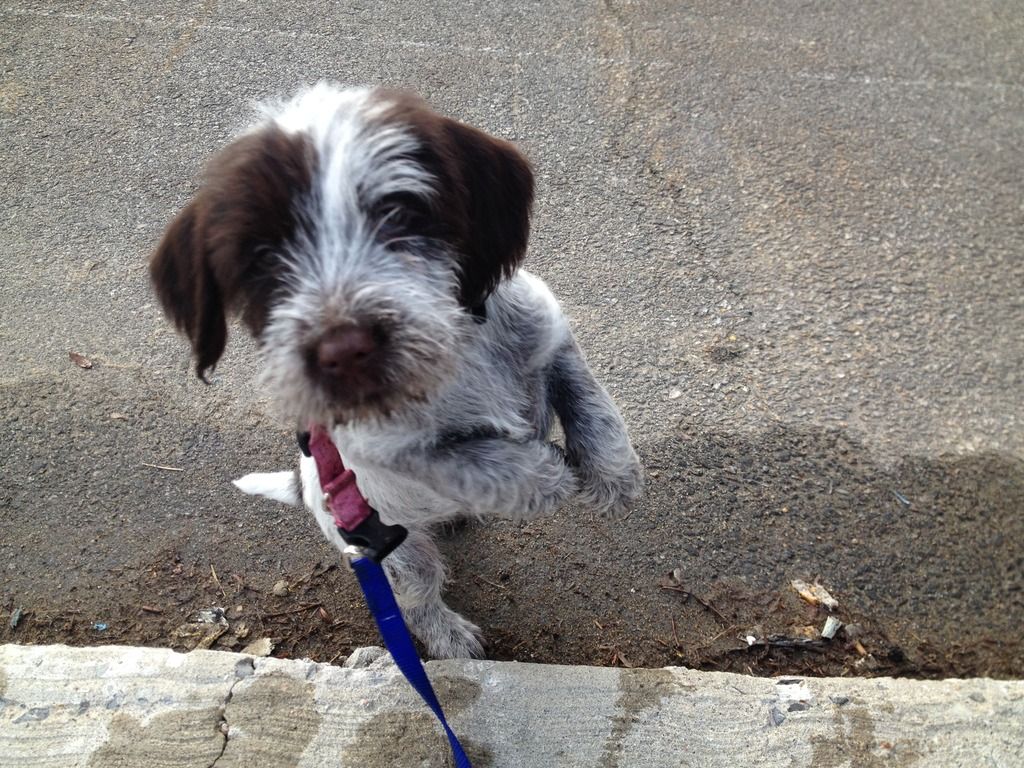 Got to tag along on pheasant hunt when she was three months old,,,she liked it depite the pouring rain the whole time we were out:
Taken yesterday (4 months old). Enjoying one of the five days of sunshine we've had in the last 7 weeks!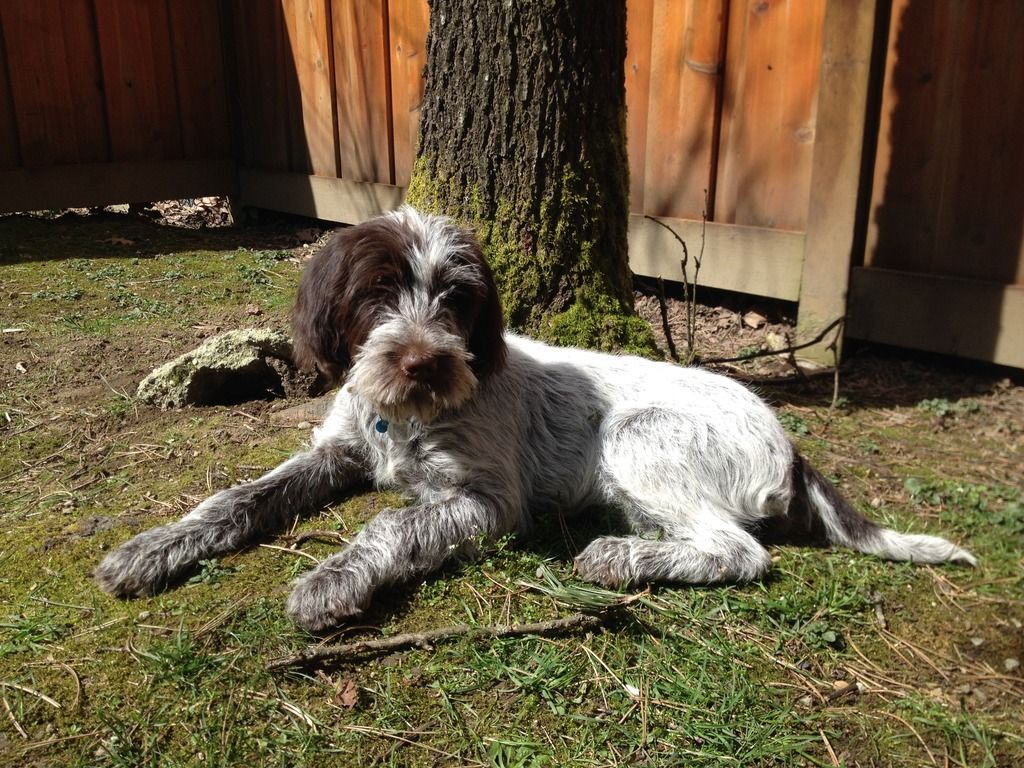 Cheers! This appears to be a good site where just about any question can be answered.