I have NEVER claimed to be a true duck hunter, more of a hack than anything. But we always give it a try early season when testing is done and pheasant season isnt opened yet.
This year I REALLY wanted to hunt Anka. Mostly to put a fire in her about it in preparation for her advanced testing. Unfortunately that didnt happen. SHe is in standing heat and I dont want to take any chances with infections etc. SO it was up to Baja and Max.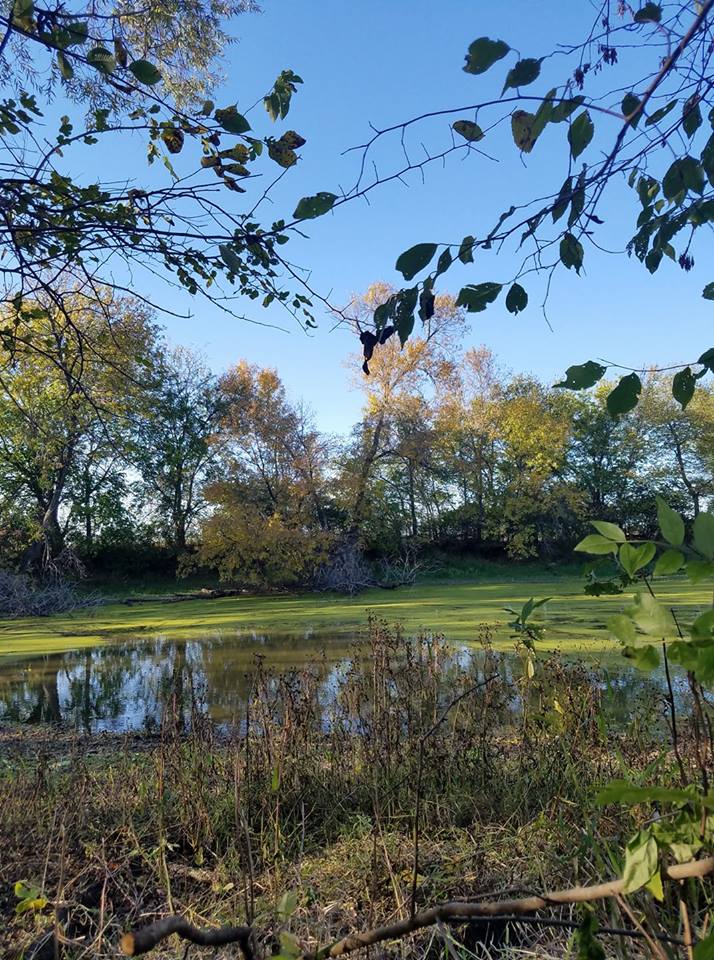 This is the pond that I jumped 12-14 woodies off of without a gun....
So, I let it rest for a week until my friend could come hunt with me.
The night before she was going to come I wanted to scout out places for us to sit. I didnt think the ducks would be there at 3pm, as if they keep a schedule
. This time I brought Max and a gun.
I left him in the truck....not sure why. I could have just downed him while I crept up to the pond. He is really good at that. Anyway, I snuck up to the pond and I saw a turtle slide off of a log...I figured that was it and began to walk around the pond to find locations to set up. I took one step and from under a fallen tree leaning in the water, an eruption accrued! I was TOTALLY taken by surprised. I raised Georgia and took aim, missed, aimed again,missed and took my final shot and a bird fell from the sky and smacked down on the bank. I was elated, but I would learn later that my decision to go get Max instead of looking for the bird myself was a mistake, By the time I got Max and got back we could not locate the bird.
We worked the bank all around the pond, we worked the cut field that surrounded the pond, nothing. I am not sure if it......hell, I dont know what happened.
Dejected I took a seat along the bank and covered us in pretty good. I just wanted to sit to see what would happen, would more come?
20 minutes before shoot closed, a lone drake dropped in. I rattled the bushes to get him to flush and took a shot. I knocked him down! But now he is stealth duck mode. Max had left already at the shot, dont even know how well he marked it. Max is searching and I see stealth duck swimming out about 20 yards from Max. I took the shot and the duck looked as though it dove! Max searched and searched for the duck. He covered the upper banks, around the trees, everywhere. By this time I thought I should call him back and wait the last little bit to see if the duck would emerge after the commotion subsided.
I NEVER saw the duck leave the water. Shooting hours are over and I call my husband and ask him to bring Baja. I needed The Beast to help us.
Now, I am no fun when I feel like I have lost a bird. All those pretty words I learned so in the Navy so long ago came flowing out quicker than bees from a shaken hive and with just about as much anger.
Dogs searched and searched,nothing on the first duck, even after crossing the field twice. So we focused on the second duck. Up on the ridge where Max has search, Baja hit scent hard. You can just tell with her, she gets bounce and animated. 200 yards later she locks up! Jim gave a fetch and she dove in and retrieved the drake from the cover.
Oh man, I was so happy!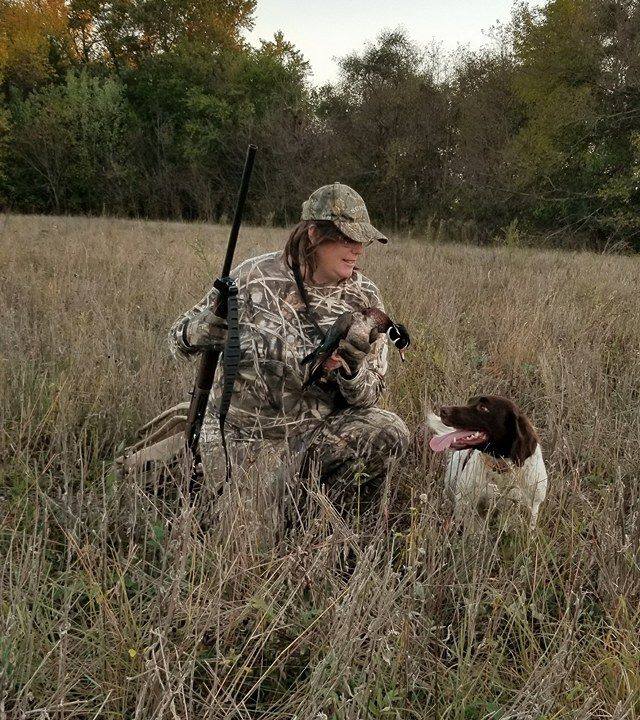 The next day Denise came over with her GSP and we headed out early. We sat for about an hour before being visited by a blue heron. SCORE a live decoy.
We really enjoyed watching him wade through the water snatching a fish and running to the shore so he wouldnt loose it. The dogs were fricken shaking, panting, looking at us like "Why are you not shooting!" This went on for a good hour. As we watched this heron, a woodie snuck in on us and did a touch and go...........we hunted the evening too and we never saw another bird.
Denise and Brandy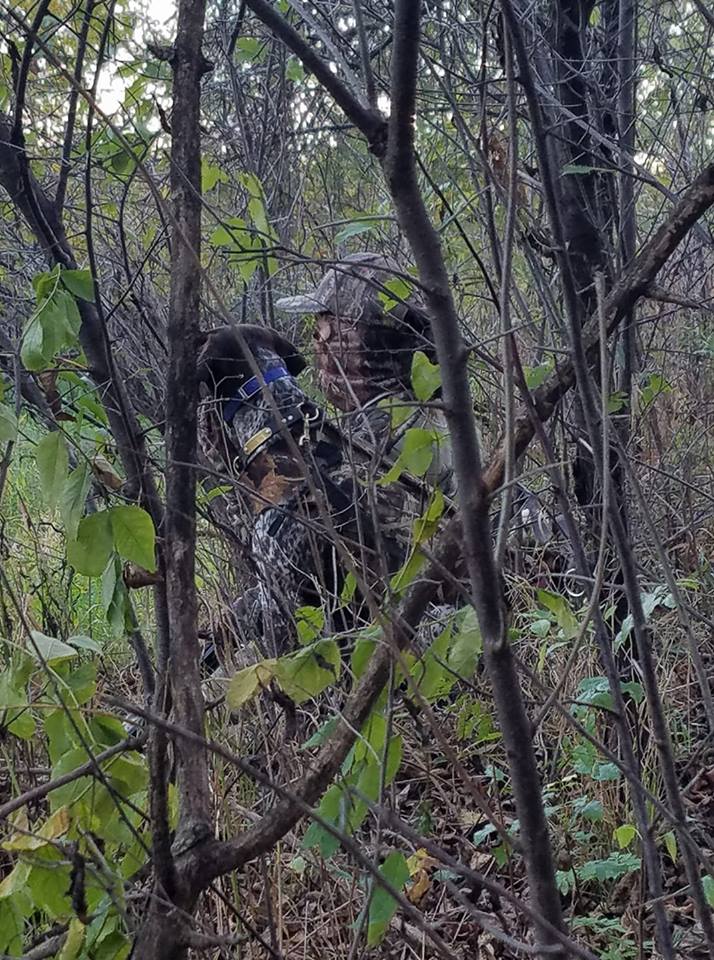 I have no patients.....could be part of the problem!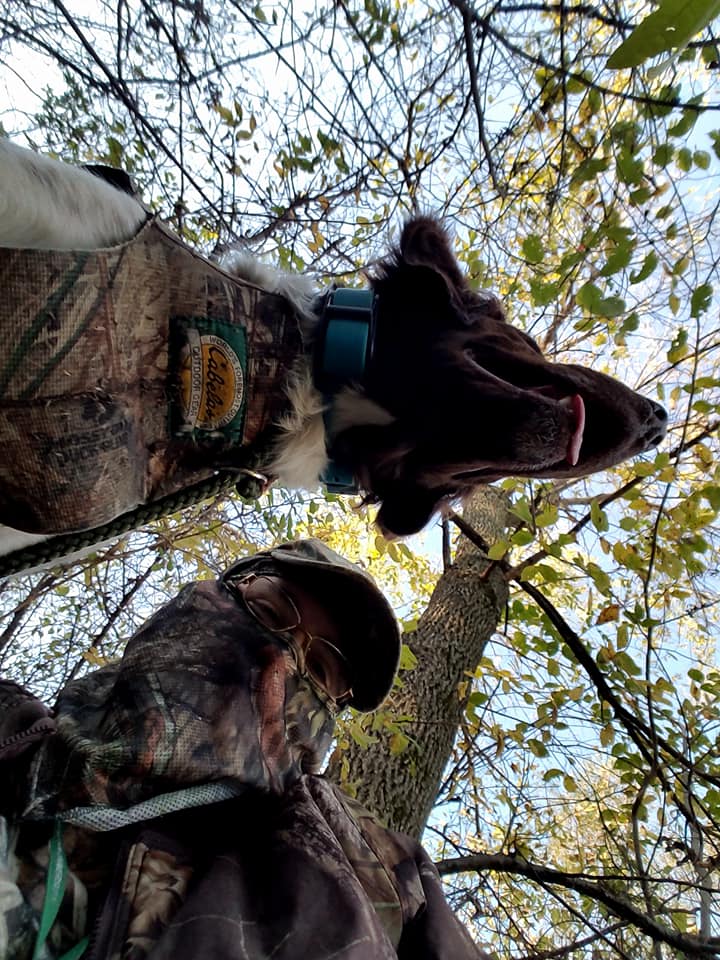 So tired and bummed we drug our butts home, watched tv and made plans for the next day. Neither of us were up for sitting at a pond again. So, we decided to puddle jump
I laugh because the though of my big broken self attempting to sneak up on anything is pure comedy!
We got to the first location and I know these woods really good from deer hunting. I told Denise to creep aaling this canal to my left and I will creep up to the body of water in front of us that intersects. Being totally cammoed makes it very hard to keep track of your partner. So I slowed up, but Max down and crept up to the bank. As soon as I popped up a drake and hen woodie busted out of a wood pile in the water. The took the turn that had them following the line right to were Denise SHOULD be. I yell "There coming your way!" The next thing I hear is BOOOOOM.........FETCH!
I let out a whoop that probably scared off any other animals that may have been hanging around! I was so happy, it worked out awesome!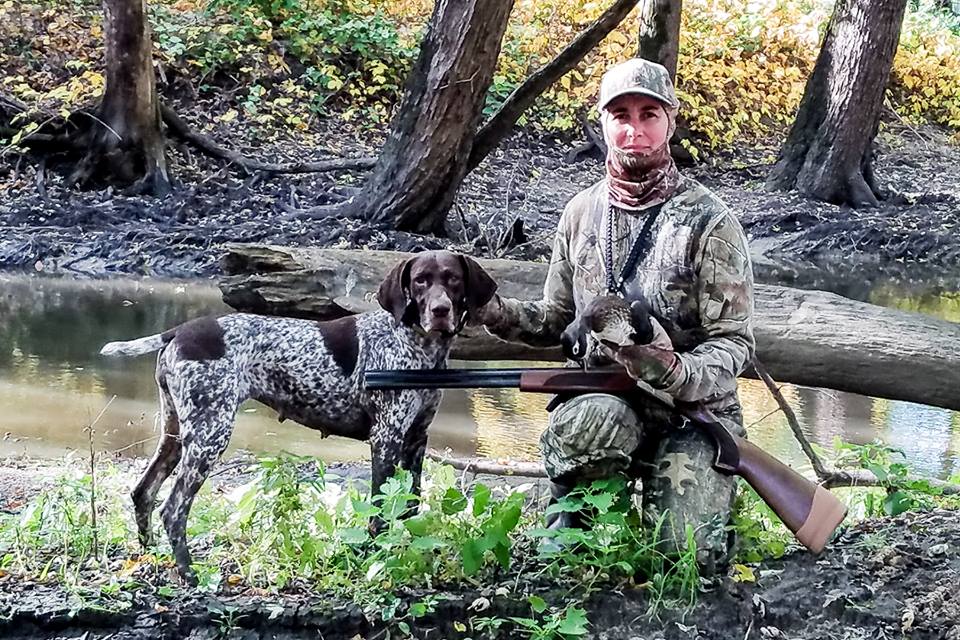 We decided to try another spot. Immediately I knew it was going to be a bust. They had recently built horse trails into the woods and as we unloaded, here came the horses. I knew they passed the holes I wanted to get to, but we went anyway. We jumped some ponds and the rivers edge with no luck.
At that point I was starting not to feel good, had let my sugar get to low and just brought junk foods. So instead of fixing the problem with a good sandwhich or something, I was eating quick sugars which I was wearing off pretty quickly during the walk. SO I ended up curling up against an old log and with Max by my side, I took a nap. Denise went on to look for more pot holes with Brandy. No Luck.
So, on the walk back we were debating if we should continue or call it a day. As much as I wanted to keep going, I was done. Walking down the horse trail I notice that Max hadnt checked in with me for sometime. I was to weak to go looking so I just stood and gave him a tone. Pretty soon all hell broke loose in the woods! Max had found a coon and was letting out the pent up frustrations he had from not being allowed to breed Anka.
At this point I wished I had taught him a DROP command. Because instead, he wanted to sit and present it to me. I didnt want to touch it, so I kept telling him to drop....He won.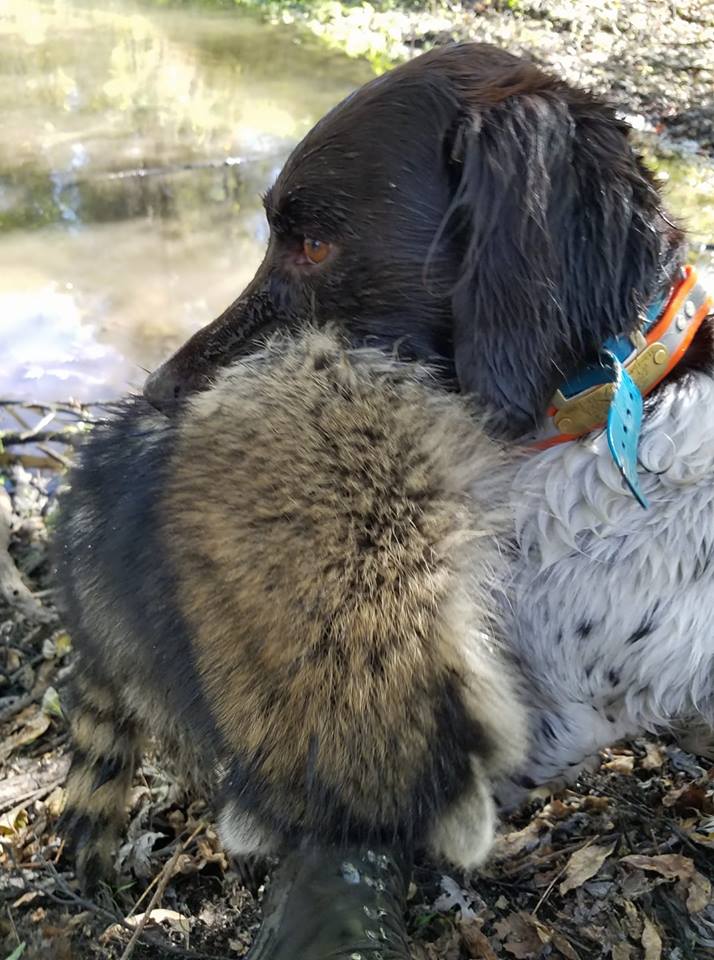 So, while my duck hunting hasnt been the best, just a time killer really, one of my pups has been having a great season.
Cain vom Cedar River 5 1/2 months old
Im not for sure if this is Cain or Ivy, which is an "A" litter. Alpha vom Cedar River. No matter, same owner.
He did invite me to go hunting, but I really wanted to hunt Anka so I didnt go.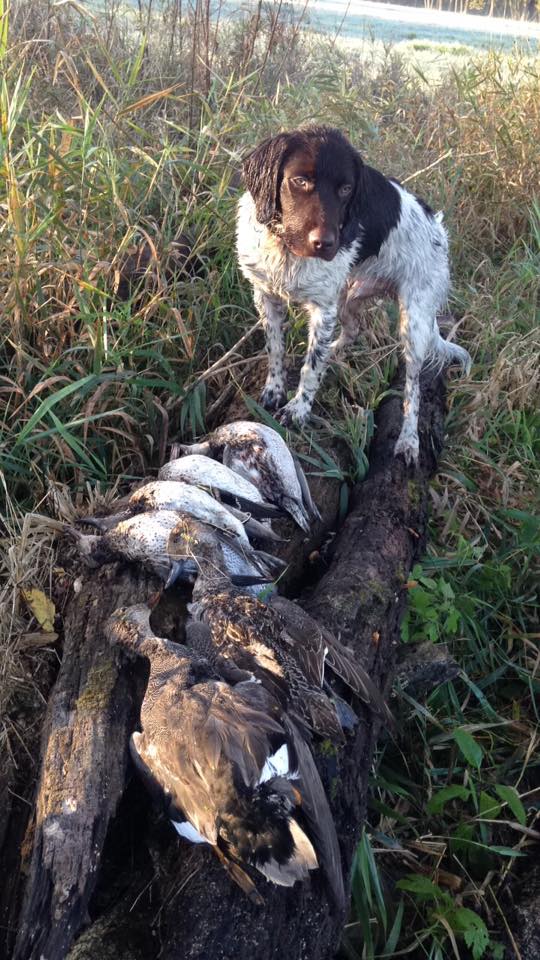 Anyway, hope you enjoyed the story. Just force fetching a dog and getting ready for the pheasant season to open.