Brewer -- March 14th 2004-November 5th 2007
I couldn't bring myself to post this earlier, I still miss him every day.
Written November 5th 2007.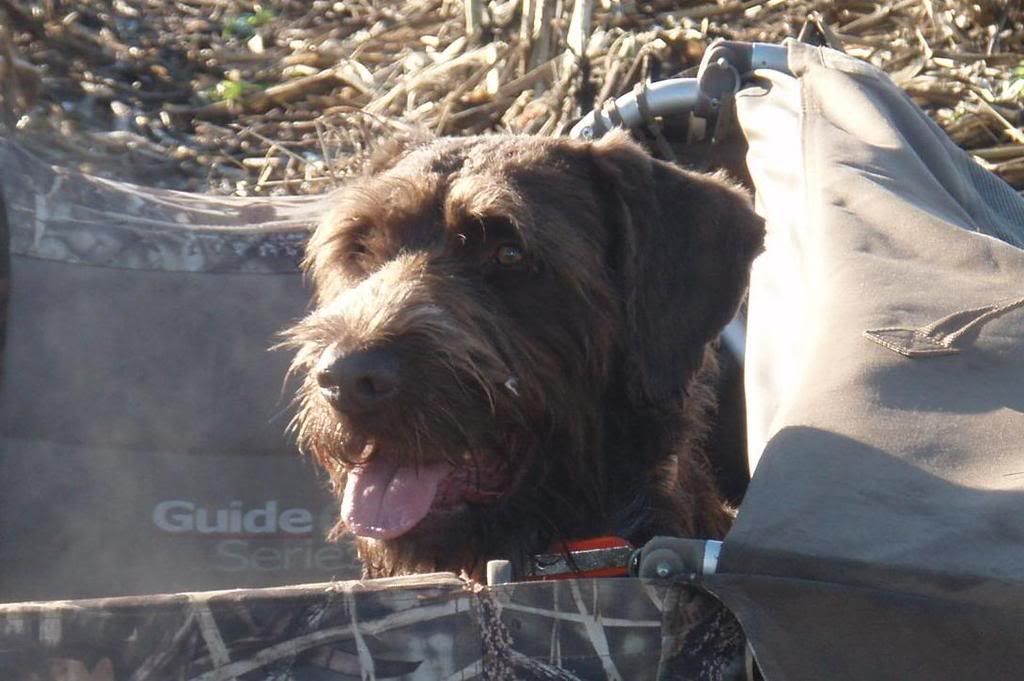 It is with a heavy heart that I announce Brewer's passing. His time came while we were on pheasant trip in North Dakota with my good friend Dennis Carey and his dog Jiggs. He passed away with the anticipation of a morning hunt on his mind. He is greatly missed and left behind some very fond memories, memories etched so deeply in my mind that I will never forget him. Brewer was so special, in so many ways. He was a source of great pride for me; which only amplifies the tragedy that befell us this week.
Brewer opened my eyes to a world I'd never seen before, and that few ever will. I'd hunted birds for many years before he arrived. But it was not until our first hunting trip together that I realized I'd never hunted" like this" before. We were participating in the Delta Waterfowl youth hunt in Netley marsh, just north of Petersfield. At the tender age of 5.5 months, Brewer taught me what hunting was all about. His first ever retrieve was on a crippled blue wing teal. I watched, with a big goofy grin, as Brewer swam out and proceeded to follow a diving duck. Not just putting his face in the water, but completely disappearing from view in pursuit of his prize. When he finally caught it, he lifted it up high, and proudly brought it back to me, the memory lingers still. When I saw nothing flying; I would often look to him, as he was finely tuned to the sky and saw birds before I would. I'm going to miss those eyes, so intense, so piercing.
I used to go upland hunting without a dog, what a dope! I could never imagine doing that again. Brewer quartered naturally from a very young age. Quartering is when the dog runs side to side covering a lot of ground, not covered by the hunter. There was nothing like seeing him charging through the uplands and catching scent and locking up on point. He had an unusual intensity that made a lot of fun to watch. He could be working hard, and breathing hard; but when he found scent, BAM! Locked up and barely breathing; that delicious scent wafting into him, every fiber of his being tense and ready. With limited upland opportunities in Manitoba; we did much of our upland hunting in the states. My favorite trip was always Wisconsin; as the birds there were plentiful and I saw him at his best when we hunted there. He took a lot of punishment with his hard charging approach; he preferred going through as opposed to around anything. At the end of a 4 or 5 day hunt he was spent, giving all that he had to give. During the last day of our 2006 peasant trip to North Dakota; I came over a hill with Kyle and Chris to find Brewer locked up on point. I can see him there now, as clearly as I saw him then, so many memories.
He will be remembered for more then hunting. We grew together as handler and hunting dog; and became a formidable team. During my off season, he continued to hunt. Whether we were running in the floodway, or Kilcona, or even on Kildonan golf course, he was always hunting. Treating me to a show every evening; he kept me coming back day after day. It was during these very frequent outings that he honed his skills, learning to use the wind, learning to see with his nose. Most of those days were spent in pursuit of rabbits. It was beautiful to see him work a track, pausing to sniff each foot print. Figuring out which direction the rabbit was going using only his nose. Then tracking down that bunny until he finally found it.
Brewer was special even in the house where he would hunt down stray socks or anything he could pick up. Retrieving was his favorite past time. We literally spent hours playing retrieving games in the basement; it may sound silly, but he was so enthusiastic, and with each retrieve those eyes would say "just 1 more". I didn't measure retrieves like many did; 2 or 3, if he does it right quit on a high note. We would go for hours at a time, until after his first winter he was doing it perfectly. It was these games with a bumper, or his kong, a sock, a shoe, whatever, that taught him his retrieving manners. There was no force fetch program, no heavy handed tactics. Just great natural ability coupled with patience and persistence. To me, this was my greatest accomplishment as a trainer; and truth be told, Brewer made me look good. We spent an entire summer at Petersfield firing the retriever trainer for hours on end; we went through 600 rounds that summer. We quit when I got tired, there was no quit in Brewer. When we were done training and he was fed; he would lie down and sleep. His favorite poses were either on his back with his legs spread-eagled, or on his side with a paw covering his eyes. Even in sleep, he was fun to watch.
I was also comfortable taking Brewer everywhere with me. His training allowed me to have control of him in any situation. Whether it was sitting him down at the front door at my folks place while we ate, or giving a few blasts on the whistle to bring in to me at the lake. When I had occasion to be away from home; he was welcomed into my brother's home; where he became a member of the family.
Brewer you lived up to being "man's best friend". We had so much fun together and now I have nothing but memories, and lots of them, thanks for sharing with me. There will be other dogs, but never another Brewer.